Meet our Audiologists!
Sarah Schlunegger, AuD., CCC-A, FAAA
Dr. Sarah was born and raised in Ortonville, Michigan. She studied Communicative Sciences and Disorders at Michigan State University (Go Green!), and received her doctorate in Audiology from Central Michigan University in May 2017. She completed a year-long residency in Las Vegas, Nevada, and worked in Olympia, Washington for two years. Sarah now lives in Grand Blanc with her husband and their son.
Dr. Sarah specializes in the diagnosis of hearing loss and balance disorders, as well as the treatment of hearing loss with hearing aids, cochlear implants, or BAHA. She is known for her patient-centered approach in all aspects of audiology. She is also passionate about hearing loss prevention and had the opportunity to present her doctoral research for a national conference in San Antonio, TX, on hearing protective devices for recreational shooters. Dr. Sarah was a competitive collegiate pistol shooter at Michigan State University. She enjoys educating recreational shooters and hearing loss patients on ways to protect their hearing against dangerous sounds.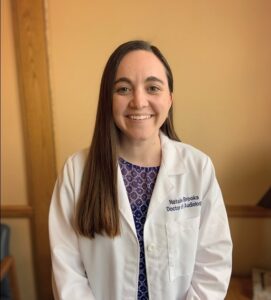 Natalie Brooks, AuD., CCC-A
Dr. Natalie grew up outside of Indianapolis, Indiana. She graduated from Purdue University with a Bachelor of Science in Speech, Language, and Hearing Sciences. Dr. Natalie then attended Ball State University for graduate school where she completed clinical rotations in the university clinic, private practice, ENT, and nonprofit audiology settings. She completed her fourth-year externship at Carolina Ear, Nose, and Throat in Hickory, North Carolina. She received her Doctorate of Audiology in May 2022.
Dr. Natalie specializes in the diagnosis of hearing and balance disorders, as well as hearing loss management. She enjoys working with patients of all ages and their families to provide the best individualized care to improve quality of life
Rachel Freyberg, AuD. Candidate, 2023
Rachel is a current Clinical Doctor of Audiology student at University of Cincinnati, finishing her last year of the AuD program as an Extern with ENT Associates.